Katy, Fulshear, Houston & Richmond TX
Looking for landscaping ideas after having a pool installed in your backyard?  Our family-owned company has served West Houston areas of Katy, Fulshear, and Cypress, Texas for over 20 years. We can't wait to help you make your backyard an oasis. Whether you have a landscaping design style in mind, still deciding, or need ideas, we are here to help.
Why Choose JMAS Texas Lawn Care for Pool Landscaping?
Experienced Landscape Designers with 25 years of experience
Excellent Customer Service
Fully Insured
Experience Getting Landscape Design Plans Approved by Homeowner's Associations
Versatile Design Styles: Modern, Luxury, Tropical, Mediterranean, Southwestern, Dryscape, & More
Free Design Consultations and Cost Estimates
Palm Tree Experts
Licensed Irrigator to get your irrigation system back up and running
Which Plants, Trees, and Shrubs are Best for Pool Landscaping?
Firstly, the best plant species to use around pools are species that do not shed and that are hardy enough to withstand sunburn from pool reflections and either chlorine or saltwater splashes. Secondly, you will also want to consider the size of the tree at maturity and tree root growth.
Also, you might want to consider low maintenance landscaping options that only require seasonal pruning and fertilization.
Backyard Pool Landscaping Ideas
When you decided to install a pool, you likely had a style or theme in mind for your private backyard escape. Some of the most popular landscape design ideas and styles for 2023 include tropical, lush oasis, modern, hardscape, and native. We can also create custom landscaping ideas by mixing styles and elements that compliment one another.
Pool Privacy Landscaping Options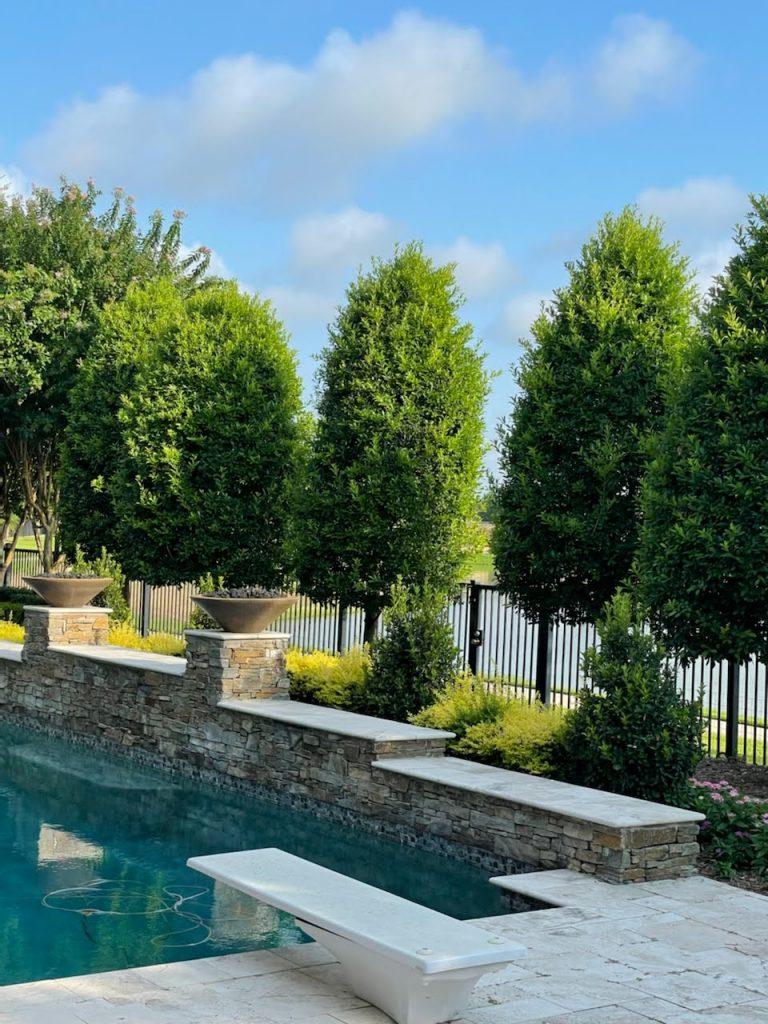 Consider privacy landscape ideas if you have close neighbors or an open fence style. Hedges or bushes around the pool help create privacy on the ground floor. If you want plants and trees to create privacy from second story windows, you need trees and hedges with dense foliage.
Protect your Pool Equipment
It is important to protect your pool equipment by adding bullrock and edging. This will keep your pool equipment from getting damaged by the weedeater or any other hazards.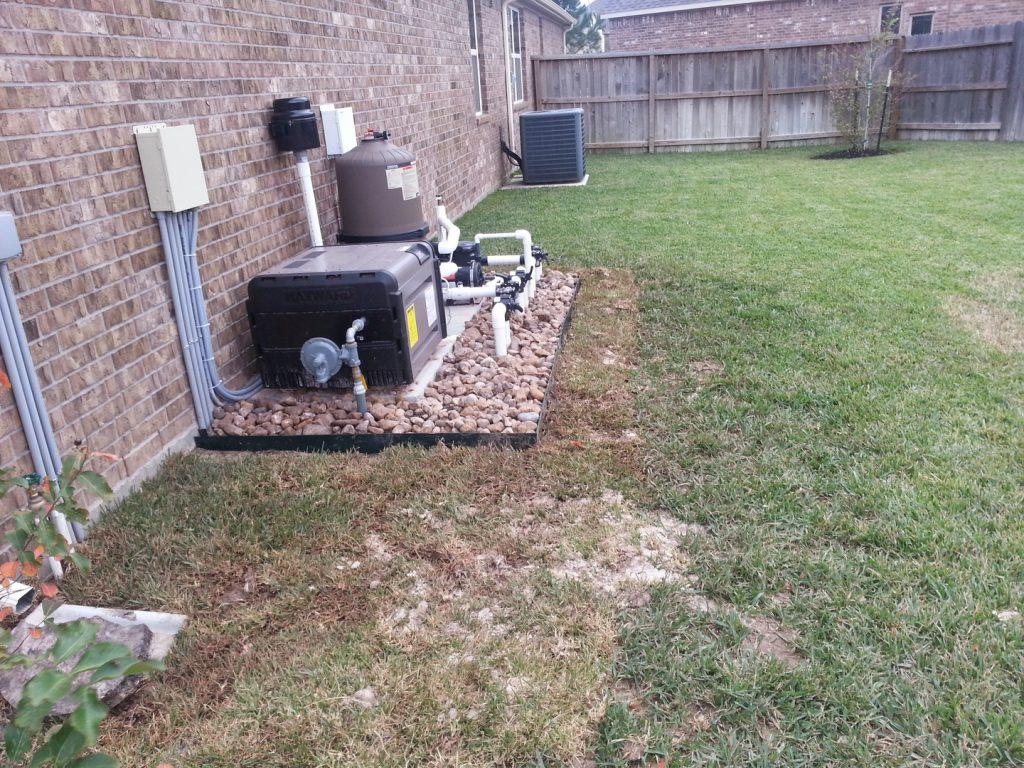 Irrigation System Repair After Pool Installation
Did your pool building company damage your lawn irrigation system? Our licensed irrigation operators can assess the damage, and provide an estimate to get your system back up and running.
Schedule a Backyard Pool Landscaping Design Consultation
Contact us online or call (281) 396-4195 to request an appointment with our pool landscape designers. We'll discuss your needs, pool and yard dimensions, and propose a design that fits within your budget that fits the style you have in mind.